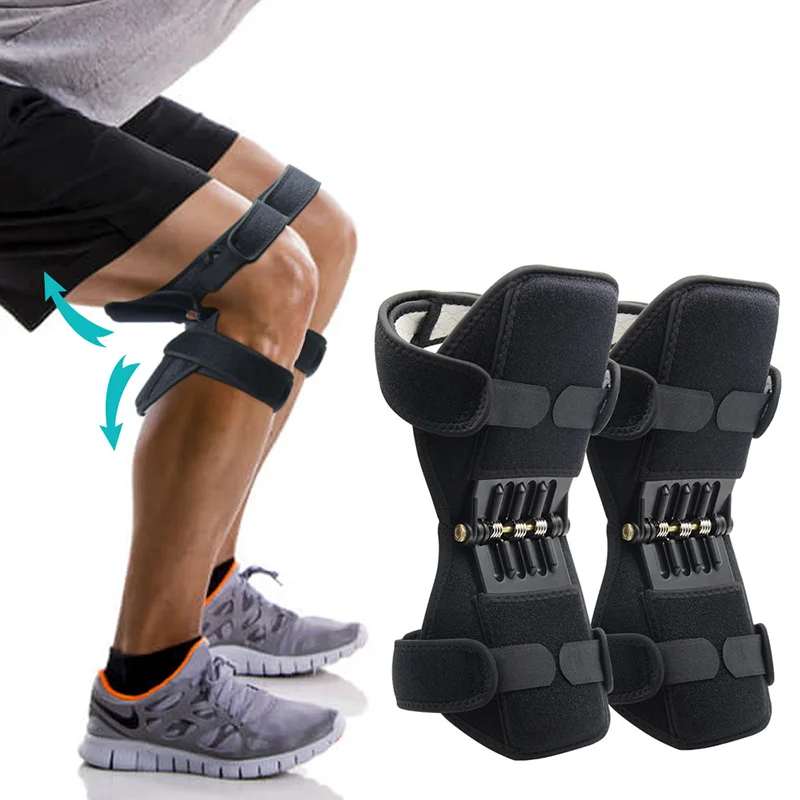 ${data.index + 1}/12
INSTANTLY REDUCE PRESSURE AND STRAIN FROM YOUR KNEES FOR PAIN-FREE MOVEMENT
** NOT AVAILABLE IN STORES! **

Knee pain and discomfort can significantly harm quality of life, limit the things you do and enjoy, and cause undesireable suffering.
The new KneeBooster Support Knee Brace System creates a spring-action that reduces pressure on your knees and support the muscles surrounding the knees, thus creating an easy and pain-free movement of the joint, and allowing you to enjoy daily activities without any pain or discomfort. Do all forms of physical activity, recover from injury or surgery, ease arthritis and joint pain, easily lift heavy items, prevent knee injury, and more!
The KneeBooster is perfect for anybody suffering from any level of knee pains, people working in physical work, or people who had knee-related injury.
HOW DOES THE

KNEEBOOSTER

SUPPORT KNEE BRACE SYSTEM WORK?
The KneeBooster is designed to be easily put on and adjusted for a perfect and comfortable fit. Each brace is fitted with a lightweight, durable and flexible aluminum alloy spring, adding an accumulated 40kg (90 lbs) of pressure-relieving lifting power to the knees.
Helps to improve kneecap tracking
Provides

support for the knee

joint when bending
Provides support when

getting up
Helps to

reduce stresses

on the ligaments
Open knee enables airflow for additional comfort
Reduces your chances of suffering a

knee strain injury
VERSATILE - Great for a wide variety of activities such as hiking, mountain climbing, cycling, golf, fitness, and more.
WORKING BUDDY - These powerful knee pads support thighs and calves, so they can be used in any workplace.
HIGH-QUALITY- Made of strong and durable materials and built to last.
COMFORTABLE - Made of soft and pleasant breathable fabric which can be worn underneath or outside of your clothes. Adjustable for a perfect fit.
Specifications:
Material:

Elastic Belt + Alloy Spring
Size: Free Size
Dimensions: Upper Strap 54 cm, Lower Strap 44 cm
Product Height: 31 cm
Feel like you never had knee injury. Get this Knee Support now.
General
Where do we ship from?
All Shoesneat products are shipped from China with an average delivery time of 10-20 days. If you don't see our delivery time when you place your order and are not willing to wait 10-20 days for delivery, please contact us. We will be more than happy to send you a full refund.
(Only for orders with items not shipped)
Can my order be delivered within a week?
We stock our items in China to cut cost and we transfer the profit back to our valued customers. Therefore, the orders cannot be delivered in the US within a week. If you are willing to wait, you get a nice pair of shoes at a very competitive price
How can I cancel my order?
You can contact us by email in the following format: cancel order + your email + Order No. (Order screenshot)
Email address of the store: support@shoesneat.com
Our customer service team will get back to you within 12-24 hours. Please wait for our reply and do not open a PayPal case immediately after placing an order. We will FOR SURE refund you for unfilled orders.
Why did I order two pairs of shoes but only receive one pair?
Because Shoesneat offers a wide range of shoes, we have dedicated staff for certain styles. To ensure your shoes are shipped as quickly as possible, we sometimes send them in different packages. If you only receive one of these packages, don't worry, the rest will arrive one after another.
What happens if I forget my password?
If you forget your password you can request a new one to be emailed to you by clicking on the 'Forgotten Password' link on the sign in page. If this fails to resolve your problem, please contact our customer services department.
My shoes are out of stock, do I get a refund?
You will receive a full refund for any items that we are unable to fulfil.
How do I change my order?
To change orders please contact our customer service department as soon as possible. We will endeavour to change your order as requested, this may not always be possible as the item may have already been despatched – in which case you can just send the shoes back to us for an exchange.
Email address of the store: support@shoesneat.com
Can I check the order information if there is no registered member when placing an order?
Yes, You can sign up for a new membership using the same email address you used to purchase the order, and the order information will be synchronized.
Delivery
Do you charge for delivery?
Standard delivery to US mainland addresses is usually $5.99. If the order is over $50, we will deliver it for you free of charge.
How long does delivery take?
For US orders, our standard delivery time is 8–15 working days.
For other destinations please allow around 10 working days.
Can I nominate a date or time for delivery?
Unfortunately we cannot specify a delivery time for orders.
What happens if I don't receive my order on time?
If your order hasn't arrived, contact our customer services team who will investigate why your order has not been delivered and do their best to resolve any problems for you.
Email address of the store:support@shoesneat.com