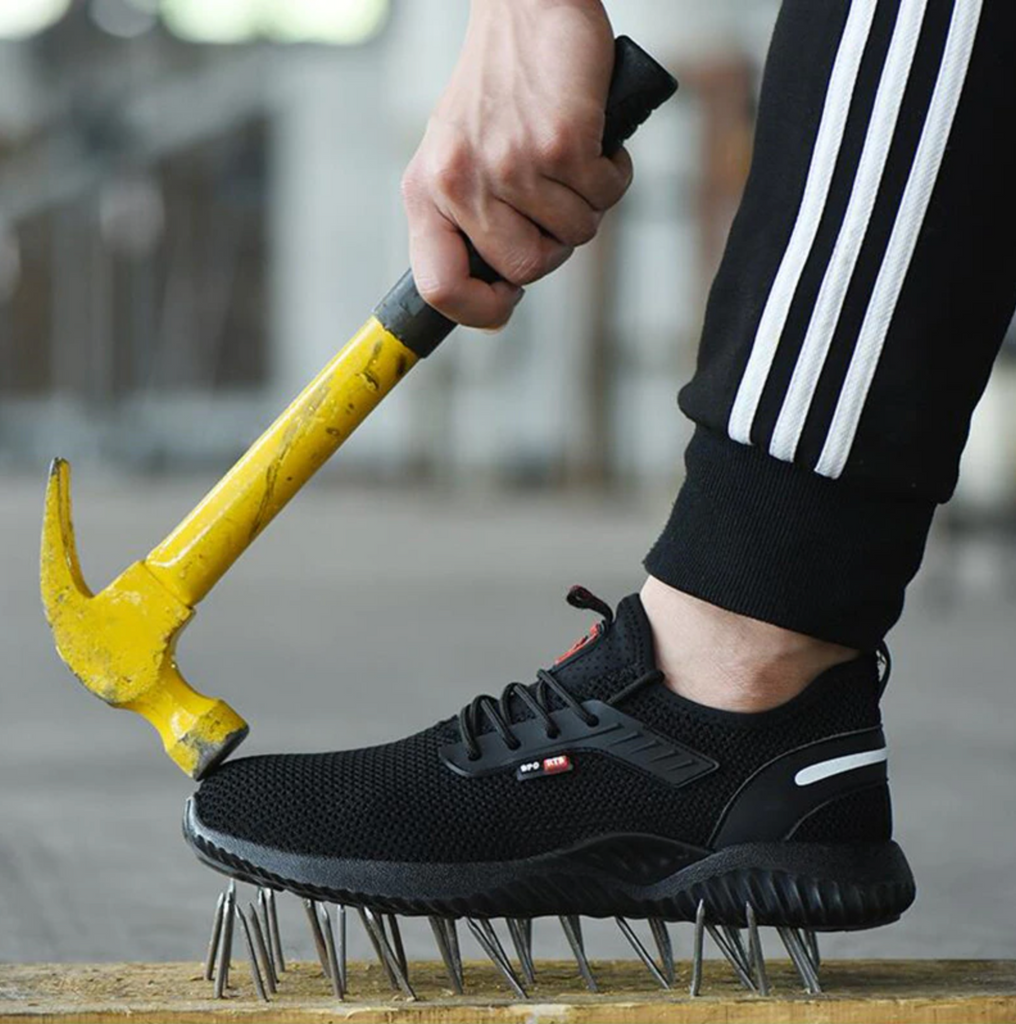 ${data.index + 1}/8
"I just saved
$

70 by getting this

$

48.99 Safety Shoes, it is WORTH every penny!"

⭐️⭐️⭐️⭐️⭐️ -

Kevin

S.
Why Choose Our Lightweight Safety Shoes:
Some cheaper steel toe shoes use inferior materials, causes not durable and uncomfortable. We always insist on using high-quality materials to supply customers with the most cost-effective products.
FEATURES:
✔️ Comfortable & Breathable: Lightweight Safety shoes are made of breathable and comfortable upper material to keep your feet dry at all times.
✔️ Reduces Pain: Eliminate the pain caused by flat feet, poor walking posture, plantar fasciitis, bunions, and other foot pain.
✔️ Non-slip Shoes: The pattern of the sole increases the anti-skid and stable grip on the ground, non-slip and wear-resistant. Keeping an excellent grip.
✔️ Puncture-Proof: Safety shoes with steel-midsole is build to protect feet from being punctured by sharp objects like nails, steel bar.
✔️ Wear-Resistant Fonction: Good material makes good product, long-wearing and durability.
✔️ Reflective Stripe: Extra safety reflective stripe that keeps you safe during the night.
✔️ Oil-Resistance: The oil-resistant traction outsole creates a cleat effect using micro-glass filaments for increased traction on wet or oily surfaces. The outsole can give you total protection from the oily place. It can improve the safety of walking and work at night.
✔️ European Steel Toes: Made from heavy-duty steel to fully protect your toes from crushing and falling objects.
✔️ Durable Cushion Feet: They are finished with ultra-comfortable cushioning. They have been given a modern update with a comfier fit. The soft cushioning provides you with all-day comfort. The lightness of the cushion makes it indispensable and the absolute favourite accessory.
✔️ Anti-Static: These working shoes are durable for the powerful anti-static feature and enough to hold up to the rigger of hard labour. The outsole is solid and stable to provide much more comfortable and easier movement.
✔️ Lightweight: Light material soles make each pair of shoes weight is only 300g which lighter than ordinarysteel toe shoes.. You won't feel too tired when walking too long.
WIDELY USED:
Our safety shoes come with an approved safety certification, suitable for industrial manufacturing, building construction, electronic production workshop, pipeline construction, sanitation cleaning, steel forging workshop, electric welding processing, oil mining, steel casting, landscaping, etc.
SPECIFICATIONS:
Midsole Material: PU, Rubber, EVA
Outsole Material: Rubber, EVA
Lining: Breathable Mesh Fabric
Toe cap:

Steel Toe Cap Bear 200J
PACKAGE INCLUDES:
1x Lightweight Safety Shoes
1x Safety Certification
General
Where do we ship from?
All Shoesneat products are shipped from China with an average delivery time of 10-20 days. If you don't see our delivery time when you place your order and are not willing to wait 10-20 days for delivery, please contact us. We will be more than happy to send you a full refund.
(Only for orders with items not shipped)
Can my order be delivered within a week?
We stock our items in China to cut cost and we transfer the profit back to our valued customers. Therefore, the orders cannot be delivered in the US within a week. If you are willing to wait, you get a nice pair of shoes at a very competitive price
How can I cancel my order?
You can contact us by email in the following format: cancel order + your email + Order No. (Order screenshot)
Email address of the store: support@shoesneat.com
Our customer service team will get back to you within 12-24 hours. Please wait for our reply and do not open a PayPal case immediately after placing an order. We will FOR SURE refund you for unfilled orders.
Why did I order two pairs of shoes but only receive one pair?
Because Shoesneat offers a wide range of shoes, we have dedicated staff for certain styles. To ensure your shoes are shipped as quickly as possible, we sometimes send them in different packages. If you only receive one of these packages, don't worry, the rest will arrive one after another.
What happens if I forget my password?
If you forget your password you can request a new one to be emailed to you by clicking on the 'Forgotten Password' link on the sign in page. If this fails to resolve your problem, please contact our customer services department.
My shoes are out of stock, do I get a refund?
You will receive a full refund for any items that we are unable to fulfil.
How do I change my order?
To change orders please contact our customer service department as soon as possible. We will endeavour to change your order as requested, this may not always be possible as the item may have already been despatched – in which case you can just send the shoes back to us for an exchange.
Email address of the store: support@shoesneat.com
Can I check the order information if there is no registered member when placing an order?
Yes, You can sign up for a new membership using the same email address you used to purchase the order, and the order information will be synchronized.
Delivery
Do you charge for delivery?
Standard delivery to US mainland addresses is usually $5.99. If the order is over $50, we will deliver it for you free of charge.
How long does delivery take?
For US orders, our standard delivery time is 8–15 working days.
For other destinations please allow around 10 working days.
Can I nominate a date or time for delivery?
Unfortunately we cannot specify a delivery time for orders.
What happens if I don't receive my order on time?
If your order hasn't arrived, contact our customer services team who will investigate why your order has not been delivered and do their best to resolve any problems for you.
Email address of the store:support@shoesneat.com