PROVEN TO INCREASE COMFORT AND ALLEVIATE PAIN
Want to start feeling young again? Walk with the ultimate comfort and feel no pain. The best part about these sneakers is that women with either narrow or wide feet can enjoy precision fitting!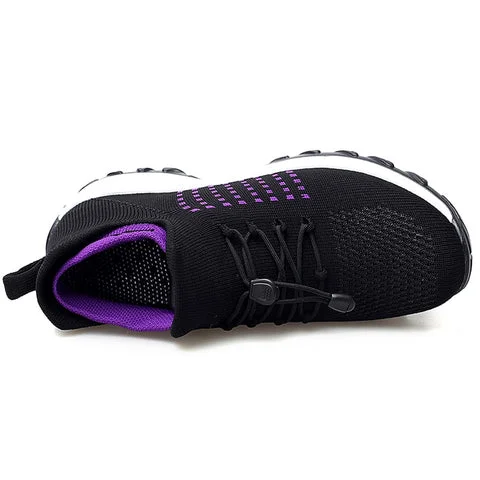 What makes Comfort Ortho Wear different?
✓ Instant Pain Relief - Pain relief from Bunions, Arthritis, Plantar Fasciitis, Arthritis, Ankle Pain, Swelling.
✓ Wide Toe-Box - This will alleviate pressure on bunions and hammertoes.
✓ Heel Cushioning Sole - Cushioning foam for the rear foot & arch support.
✓ Stretchable Knit Fabric - Easily contour your feet to make them the perfect fit. The synthetic knit material gives it its lightweight and breathable feature.
Ortho-Wear Premium Tech System: Our ergonomic cushioning sole reduces any impact that occurs after taking a step.
Every step is comfortable and smooth.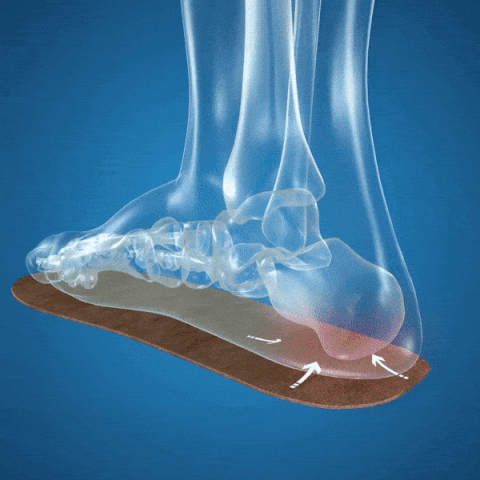 The style and comfort that you deserve.
Lightweight Trainers: Light trainers are perfect for exercising or walking. They are good for running or playing sports. They also protect your feet from being hurt by the ground, cold, hot pavement, and sharp objects. Light trainers have rubber soles and the top part is made from mesh. The soles have a lot of grips because they help you not slip when you run. The inner sole provide arch support and improve your body posture


Posture Correcting Technology:

ElenaChic Womens Trainers with Arch Support were created with posture-correcting technology. The shoes are designed to correct the wearer's posture. The sole is made of flexible material which hugs your feet, encouraging them to stand correctly.
Walking in Them feels Like a Massage:

Womens Trainers with Arch Support

with massage insole

provide a massage as you walk. When you step on the insole it pushes down so there is less weight on those muscles and provides pain relief.
Better Blood Circulation:

One important thing that ElenaChic Womens Trainers with Arch Support improve is your blood circulation. Slipping on a good pair of trainers will get the blood moving to all parts of your feet and legs. This will help prevent swelling and other circulatory problems. It may also help you sleep better at night by easing the pressure on your feet and taking tension away from them



Breathable Knitted Fabric:

ElenaChic Orthopedic Mesh Trainers are lightweight and breathable, so your feet won't get warm or sweaty. They are super comfortable because of the mesh material. This makes them perfect for walking or running.
Give you the Right Support:

Light trainers with a thin sole also provide better arch support and cushioning. This is because the sole is tucker and more compressible, so it provides more comfort and optimal support for your feet.
Slip Resistant

: The thick rubber soles of a ElenaChic Womens Trainers with Arch Support are slip-resistant and flexible, which can help you avoid accidents.
Convenient Shoelaces:

ElenaChic Orthopedic Lace up Trainers have a double function which is running light and providing greater convenience. It only takes a few seconds to tie the laces securely so you can go about your day.
Trainers Made with MD Sole: ElenaChic Orthopedic Lace up Trainers will also be more comfortable for the user because of the thin rubber soles. The thin bottom provides better arch support and cushioning for your foot which can make wearing them all day much easier on your feet.


Slip-on Sock Trainers:

our Womens Trainers with Arch Support are a great option for people with busy lives. They don't require any tying, lacing, or messing with shanks. You just slip them on your feet, and you're ready to go!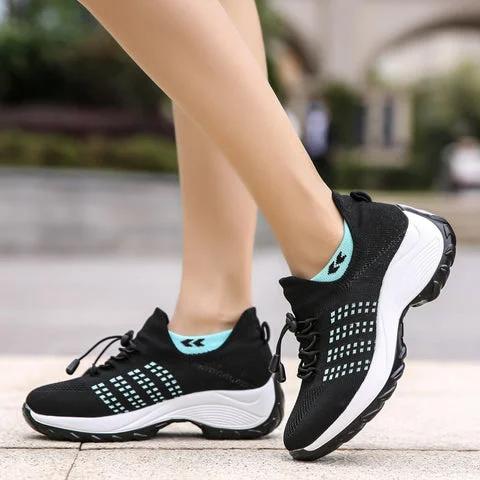 Specifications:
-Material: PU
Size Chart:
| | | |
| --- | --- | --- |
| US | EU | Heel to toe (CM) |
| 5.5 | 35 | 22.5 |
| 6 | 36 | 23 |
| 6.5 | 37 | 23.5 |
| 7 | 38 | 24 |
| 7.5 | 39 | 24.5 |
| 8 | 40 | 25 |
| 9 | 41 | 26 |
| 10 | 42 | 27 |
| 10.5 | 43 | 27.5 |
| 11 | 44 | 28 |
| 12 | 45 | 29 |

Fit: Runs true to size, order half size up if you have wide feet and to ensure the best fit