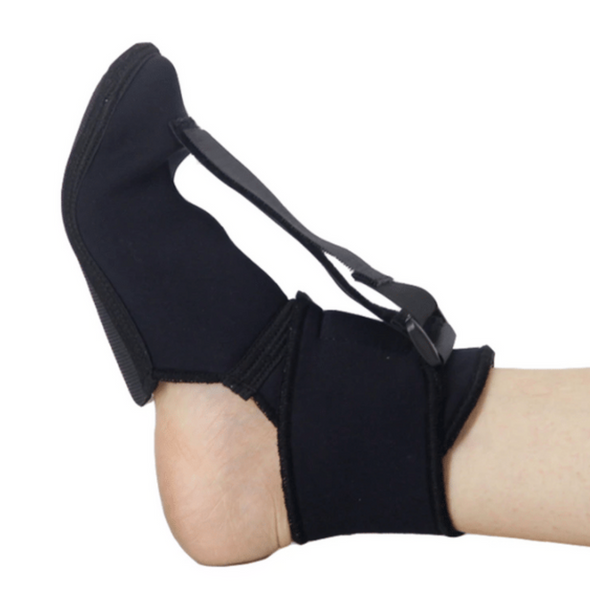 ${data.index + 1}/8
Limited Time Sale
WHAT IS PLANTAR FASCIITIS?


Plantar Fasciitis is an inflammation of a thick band of tissue that connects the heel bone to the toes. The inflamed tissue runs across the bottom of the foot with symptoms of a stabbing pain near the heel. The stabbing sensation may also flare up when you stand after sitting for an extended time.


SYMPTOMS MAY INCLUDE


Pain in the bottom of your foot.


Pain at the front or center of your heel bone.


Increased pain in the morning with your first steps.


Increased pain with activity.


Pain when flexing.


Heel tenderness.



Foot tingling or burning.

HOW IS OUR PLANTAR FASCIITIS
SOCK HELPFUL?

The Plantar Fasciitis Night Sock is a soft boot that gently draws your foot forward, providing a continuous stretch along your plantar fascia, achilles tendon, and calf muscles. Designed with an adjustable strap allowing you to choose the position and angle of your foot while you sleep. Enjoy uninterrupted sleep and never wake up to sores, cramps, and aches when your muscles stay stretched and engaged all night long.
• Quick and easy adjustability with hook and latch strap.
• Night sock provides a snug fit around your foot, ensuring it will not slip off overnight.
• Anti-rub fabric reduces itching and discomfort. Can be worn directly on skin or over a sock.
• Can be worn on either the left and right foot.

BENEFITS

• Useful For Other Foot Treatments - The nighttime foot brace is the perfect support for many different conditions including foot drop, Achilles Tendonitis, and Plantar Fasciitis.

• Designed For Comfort - This flexible splint helps reduce the painful tightening that you endure after you wake up and take your first steps. It holds your foot at a 90-degree angle while you sleep, stretching your fascia, Achilles tendon, and calf muscle allowing for a restful sleep.

• Comfortable Nighttime Wear - Unlike other bulkier Plantar fasciitis boots, our nighttime Plantar fasciitis sock offers a sleek, breathable design. The plantar fasciitis brace is only meant to be worn while sleeping or kicking your feet back on the couch. It is not meant to be worn while walking long distances. Please remove this brace if you plan on walking further than a few steps around the house.

• For All Foot Sizes - Men and women of all ages and sizes can benefit from the stretch provided by this nighttime foot sock.

• Easy To Use - Undo the ankle strap and slide your foot all the way into the sock. Wrap the ankle strap snugly around your ankle and secure the fastener. Unhook the toe strap, feed it through the D-ring, and pull gently upward. Reattach the toe strap to the top of your foot. You should feel a gentle stretch in your plantar fascia. For a greater stretch, remove the fastener end piece and fold or cut the strap to make it shorter and reattached the end piece. Please note, once trimmed the sock can't be returned.

• Washing - Hand wash in warm water with mild soap. Allow Achilles tendon stretcher to air dry completely before reapplying. Do not remove the plastic shell.
Package Includes:

A single Plantar Fasciitis Foot Splint
U.K BASED CUSTOMER SERVICE

Buying items online shouldn't be a daunting task, so we have our amazing email support team available to assist you. Please contact us if you need assistance.
✅ Tracking Number Provided For All Orders!
✅ 100% Satisfaction Guaranteed!

If you don't have a positive experience we will do what it takes to make sure you are 100% satisfied with your purchase. Customer satisfaction is what we strive for!
General
Where do we ship from?
All Shoesneat products are shipped from China with an average delivery time of 10-20 days. If you don't see our delivery time when you place your order and are not willing to wait 10-20 days for delivery, please contact us. We will be more than happy to send you a full refund.
(Only for orders with items not shipped)
Can my order be delivered within a week?
We stock our items in China to cut cost and we transfer the profit back to our valued customers. Therefore, the orders cannot be delivered in the US within a week. If you are willing to wait, you get a nice pair of shoes at a very competitive price
How can I cancel my order?
You can contact us by email in the following format: cancel order + your email + Order No. (Order screenshot)
Email address of the store: support@shoesneat.com
Our customer service team will get back to you within 12-24 hours. Please wait for our reply and do not open a PayPal case immediately after placing an order. We will FOR SURE refund you for unfilled orders.
Why did I order two pairs of shoes but only receive one pair?
Because Shoesneat offers a wide range of shoes, we have dedicated staff for certain styles. To ensure your shoes are shipped as quickly as possible, we sometimes send them in different packages. If you only receive one of these packages, don't worry, the rest will arrive one after another.
What happens if I forget my password?
If you forget your password you can request a new one to be emailed to you by clicking on the 'Forgotten Password' link on the sign in page. If this fails to resolve your problem, please contact our customer services department.
My shoes are out of stock, do I get a refund?
You will receive a full refund for any items that we are unable to fulfil.
How do I change my order?
To change orders please contact our customer service department as soon as possible. We will endeavour to change your order as requested, this may not always be possible as the item may have already been despatched – in which case you can just send the shoes back to us for an exchange.
Email address of the store: support@shoesneat.com
Can I check the order information if there is no registered member when placing an order?
Yes, You can sign up for a new membership using the same email address you used to purchase the order, and the order information will be synchronized.
Delivery
Do you charge for delivery?
Standard delivery to US mainland addresses is usually $5.99. If the order is over $50, we will deliver it for you free of charge.
How long does delivery take?
For US orders, our standard delivery time is 8–15 working days.
For other destinations please allow around 10 working days.
Can I nominate a date or time for delivery?
Unfortunately we cannot specify a delivery time for orders.
What happens if I don't receive my order on time?
If your order hasn't arrived, contact our customer services team who will investigate why your order has not been delivered and do their best to resolve any problems for you.
Email address of the store:support@shoesneat.com