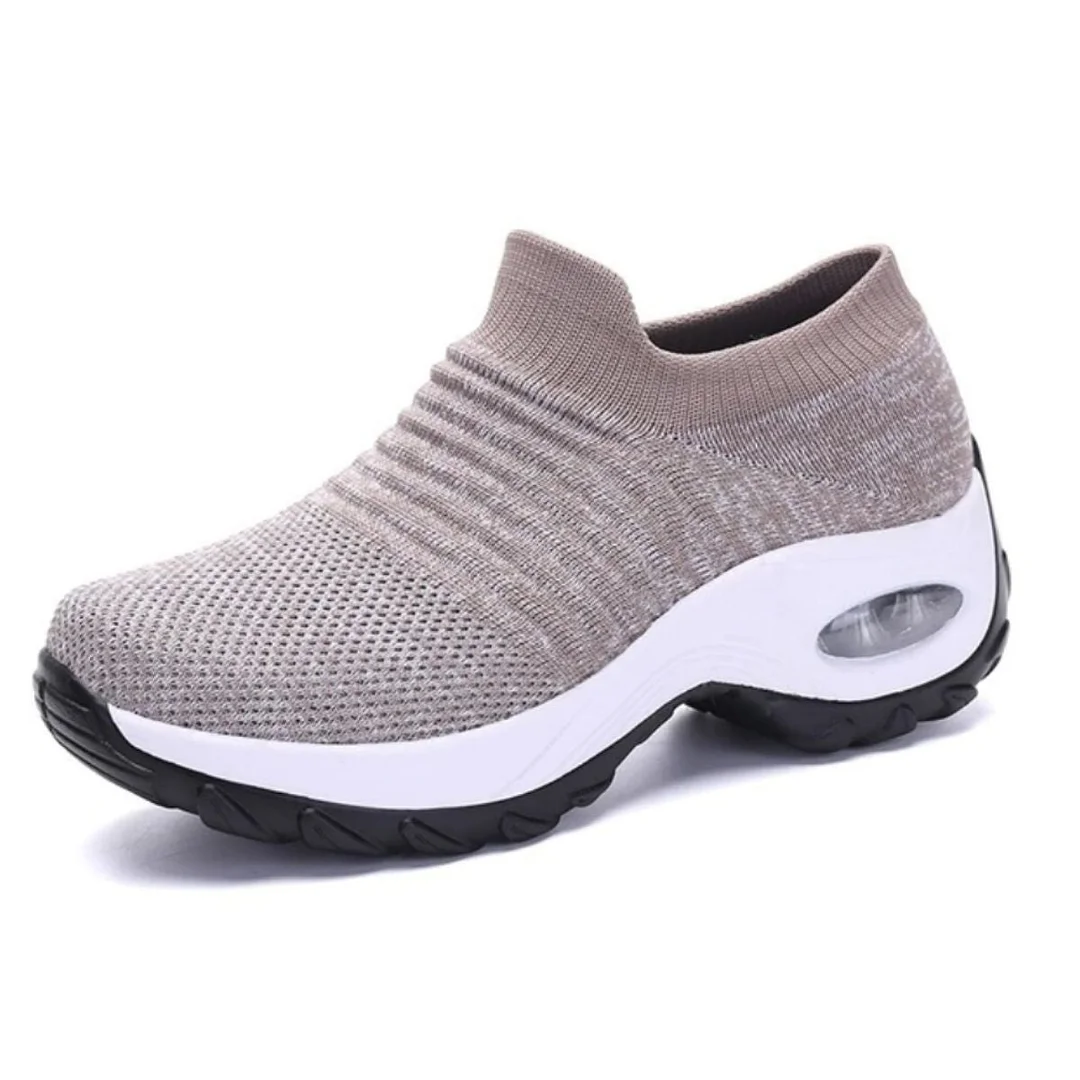 ${data.index + 1}/26
The Ultimate Footwear Solution Proven to Enhance Comfort and Alleviate Pain
*This Exclusive Price Is Available For A Limited Time Only*
Feel Young Again and Move with Ease!
Did you know that shoe choice can affect your whole body, not just your feet? And wearing good shoes helps you be at your best and prevent injuries?
Say goodbye to foot pain and ill-fitting, unsupportive pairs that negatively impact joints and posture, and walk comfortably and pain-free today! Stunahome is biomechanically designed to give you the ultimate comfort to keep you and your feet healthy and flexible. Our shoe is proven to improve COMFORT & MOBILITY so you can enjoy walking for extended periods, pain-free or your money back.
What makes

Stunahome

different?
✓ Instant Pain Relief – Alleviates symptoms associated with various foot conditions from Plantar Fasciitis, Arthritis, Bunions, Swelling, Corns, Calluses, Neuroma, and Heel and Ankle Pain.
✓ Precision Fit – Comfort is king, so we've gone to great lengths to create a sneaker that provides the perfect fit anywhere from narrow to wide widths.
✓ Wide Toe-Box – Takes painful pressure off from bunions and hammertoes.
✓ Premium Orthotic Insoles – Specially-designed cushioning foam provides heel and arch support for the highest level of comfort and protection.
✓ Stretchable Knit Fabric – Features a lightweight and breathable upper made of synthetic knit material that contours to the shape of your feet.
✓ Innovative Stunahome Technology – Ergonomic cushions that significantly reduce pressure at every step — impacts how well and easily you move.
We keep your feet healthy while you're on the move!
The primary focus of Stunahome is to enhance your comfort with the ultimate all-day wear and all-day comfortable shoe with superior cushioning that keeps your every step smooth.
Try Risk Free: 30-Day Wear Test Money Back Guarantee
Experience for yourself why stunahome is considered the Most Comfortable Shoe in the UK! Walk comfortably and pain-free or receive your money back, guaranteed!
We stand by our products and invite you to test stunahome totally risk free for up to 30 days and return them for a full refund if you are not satisfied.
General
Where do we ship from?
All Shoesneat products are shipped from China with an average delivery time of 10-20 days. If you don't see our delivery time when you place your order and are not willing to wait 10-20 days for delivery, please contact us. We will be more than happy to send you a full refund.
(Only for orders with items not shipped)
Can my order be delivered within a week?
We stock our items in China to cut cost and we transfer the profit back to our valued customers. Therefore, the orders cannot be delivered in the US within a week. If you are willing to wait, you get a nice pair of shoes at a very competitive price
How can I cancel my order?
You can contact us by email in the following format: cancel order + your email + Order No. (Order screenshot)
Email address of the store: support@shoesneat.com
Our customer service team will get back to you within 12-24 hours. Please wait for our reply and do not open a PayPal case immediately after placing an order. We will FOR SURE refund you for unfilled orders.
Why did I order two pairs of shoes but only receive one pair?
Because Shoesneat offers a wide range of shoes, we have dedicated staff for certain styles. To ensure your shoes are shipped as quickly as possible, we sometimes send them in different packages. If you only receive one of these packages, don't worry, the rest will arrive one after another.
What happens if I forget my password?
If you forget your password you can request a new one to be emailed to you by clicking on the 'Forgotten Password' link on the sign in page. If this fails to resolve your problem, please contact our customer services department.
My shoes are out of stock, do I get a refund?
You will receive a full refund for any items that we are unable to fulfil.
How do I change my order?
To change orders please contact our customer service department as soon as possible. We will endeavour to change your order as requested, this may not always be possible as the item may have already been despatched – in which case you can just send the shoes back to us for an exchange.
Email address of the store: support@shoesneat.com
Can I check the order information if there is no registered member when placing an order?
Yes, You can sign up for a new membership using the same email address you used to purchase the order, and the order information will be synchronized.
Delivery
Do you charge for delivery?
Standard delivery to US mainland addresses is usually $5.99. If the order is over $50, we will deliver it for you free of charge.
How long does delivery take?
For US orders, our standard delivery time is 8–15 working days.
For other destinations please allow around 10 working days.
Can I nominate a date or time for delivery?
Unfortunately we cannot specify a delivery time for orders.
What happens if I don't receive my order on time?
If your order hasn't arrived, contact our customer services team who will investigate why your order has not been delivered and do their best to resolve any problems for you.
Email address of the store:support@shoesneat.com