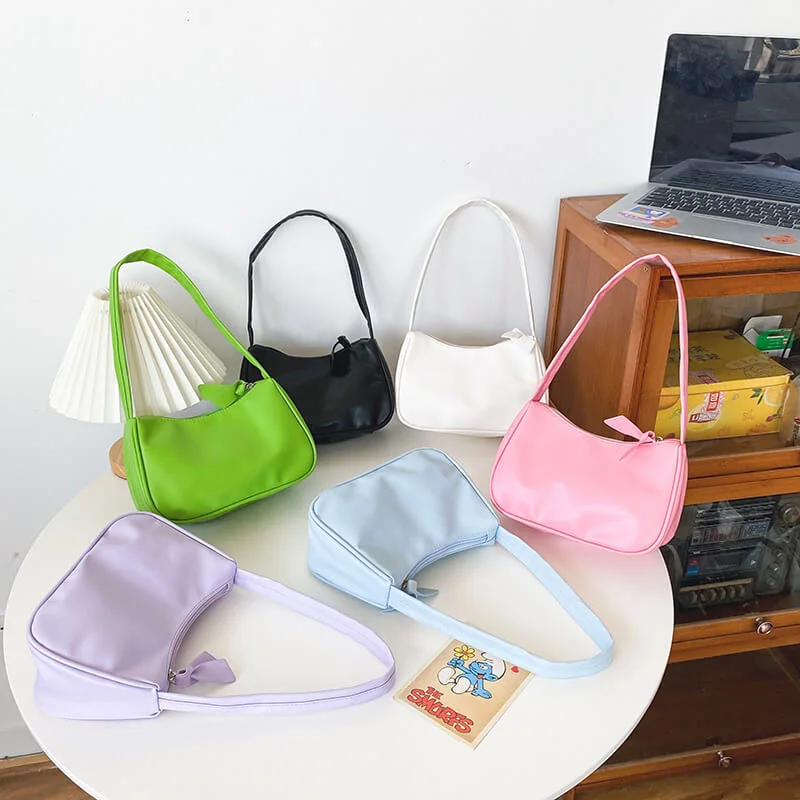 ${data.index + 1}/11



Vintage Charm with Modern Functionality

Step out in style with Nordic Peace's Vogue retro shoulder bag, the perfect accessory for fashion-forward women. Crafted from high-quality PU leather, the Vogue shoulder bag exudes a retro charm that effortlessly complements any outfit. The compact design is deceivingly spacious, offering enough room for your essentials like a phone and wallet.

Crafted for Style and Durability
The Vogue solid color tote bag is more than just a fashion statement. The zipper closure ensures the security of your belongings, while the single strap allows for comfortable shoulder carrying. The softness of the bag adds a touch of elegance, making it a versatile choice for various occasions. Whether you're a trendsetter or a classic fashion lover, this handbag will elevate your style and keep you on-trend.
Unleash Your Inner Fashionista
Indulge in the world of fashion with the Vogue casual women's shoulder bag. This fashion bag is designed to turn heads wherever you go. Its casual yet chic appeal makes it perfect for everyday use or special occasions. With its practical size and adorable appearance, this tote bag is an essential accessory for every modern woman. Elevate your style game and make a fashion statement with this retro-inspired handbag that combines classic charm with contemporary flair.

Product Details:
Closure Type: Zipper

Pattern Type: Solid

Hardness: Soft

Material: PU Leather

Number of Handles/Straps: Single

Size: 22.5 x 14.5 cm
Satisfaction Guaranteed
If you are not satisfied with your product or service, please  and we will do whatever it takes to make sure you are 100% satisfied with your order. 
We are a proud member of 1% for the Planet. We donate 1% of our annual sales to environmental non-profits in the goal of saving wildlife. Thank you for supporting us and helping save our planet. Learn more about our sustainable mission 
General
Where do we ship from?
All Shoesneat products are shipped from China with an average delivery time of 10-20 days. If you don't see our delivery time when you place your order and are not willing to wait 10-20 days for delivery, please contact us. We will be more than happy to send you a full refund.
(Only for orders with items not shipped)
Can my order be delivered within a week?
We stock our items in China to cut cost and we transfer the profit back to our valued customers. Therefore, the orders cannot be delivered in the US within a week. If you are willing to wait, you get a nice pair of shoes at a very competitive price
How can I cancel my order?
You can contact us by email in the following format: cancel order + your email + Order No. (Order screenshot)
Email address of the store: support@shoesneat.com
Our customer service team will get back to you within 12-24 hours. Please wait for our reply and do not open a PayPal case immediately after placing an order. We will FOR SURE refund you for unfilled orders.
Why did I order two pairs of shoes but only receive one pair?
Because Shoesneat offers a wide range of shoes, we have dedicated staff for certain styles. To ensure your shoes are shipped as quickly as possible, we sometimes send them in different packages. If you only receive one of these packages, don't worry, the rest will arrive one after another.
What happens if I forget my password?
If you forget your password you can request a new one to be emailed to you by clicking on the 'Forgotten Password' link on the sign in page. If this fails to resolve your problem, please contact our customer services department.
My shoes are out of stock, do I get a refund?
You will receive a full refund for any items that we are unable to fulfil.
How do I change my order?
To change orders please contact our customer service department as soon as possible. We will endeavour to change your order as requested, this may not always be possible as the item may have already been despatched – in which case you can just send the shoes back to us for an exchange.
Email address of the store: support@shoesneat.com
Can I check the order information if there is no registered member when placing an order?
Yes, You can sign up for a new membership using the same email address you used to purchase the order, and the order information will be synchronized.
Delivery
Do you charge for delivery?
Standard delivery to US mainland addresses is usually $5.99. If the order is over $50, we will deliver it for you free of charge.
How long does delivery take?
For US orders, our standard delivery time is 8–15 working days.
For other destinations please allow around 10 working days.
Can I nominate a date or time for delivery?
Unfortunately we cannot specify a delivery time for orders.
What happens if I don't receive my order on time?
If your order hasn't arrived, contact our customer services team who will investigate why your order has not been delivered and do their best to resolve any problems for you.
Email address of the store:support@shoesneat.com