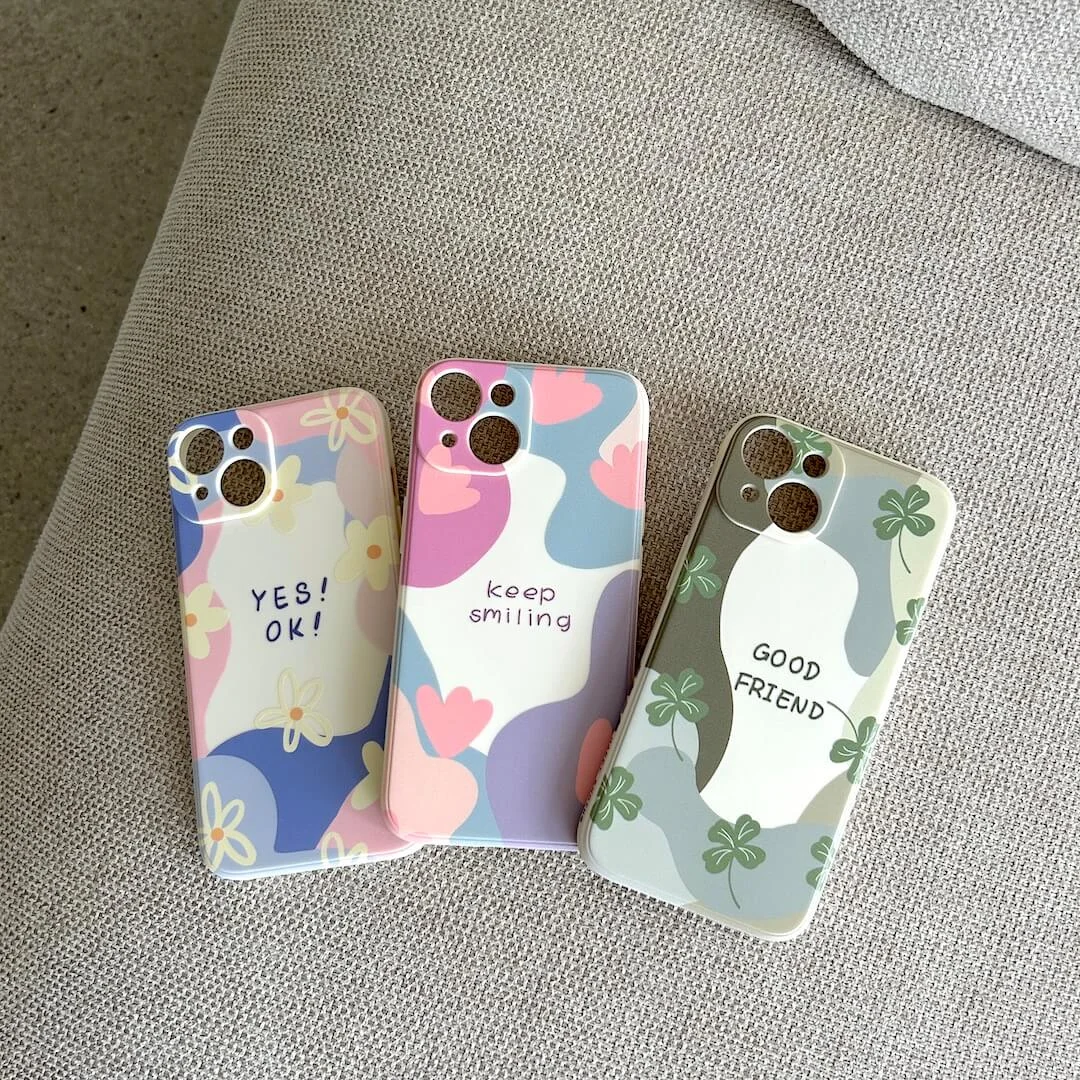 ${data.index + 1}/9



Elevate your iPhone style with adorable phone cases

Introducing our latest collection of iPhone cases - a delightful blend of functionality and cuteness that speaks volumes! Choose from three charming personalities: 'yes ok!', 'keep smiling', and 'good friend', each designed to add a touch of whimsy to your lifestyle. Crafted with lightweight yet sturdy materials, the Adorable iPhone Covers are an attractive choice to enhance the beauty of your phone.

Choose cuteness, choose protection
Transform your iPhone into a style icon with our collection of adorable phone cases. Perfect for a quick style refresh or as a thoughful gift for a good friend, these cases are bound to keep you smiling. Enjoy this best phone case that's dustproof, non-slip, and feels pleasant to the touch.
Quality Meets Aesthetics
Experience superior quality with a protective case that's designed to please. The excellent quality of our phone cases ensures durability and long-lasting beauty. Whether you're seeking the best iPhone 14 Pro Max case or the perfect fit for other iPhone models, this is an ideal protective case that brings style and security together.
Product Details:
For iPhone 14 Pro Max | iPhone 14 Pro | iPhone 14 Plus | iPhone 14 | iPhone 13 Pro Max | iPhone 13 Pro | iPhone 13 | iPhone 12 Pro Max | iPhone 12 Pro | iPhone 12 | iPhone 11 Pro Max | iPhone 11 Pro | iPhone 11 
Expressive Designs: Our 'Yes Ok!' case exudes positivity, 'Keep Smiling' spreads joy, and 'Good Friend' celebrates companionship, ensuring your iPhone not only stays protected but also makes a statement. 
Cute Phone Covers, Serious Protection: Elevate your iPhone's look with a dose of cuteness, all while providing it with the armor it deserves.
Satisfaction Guaranteed
If you are not satisfied with your product or service, please  and we will do whatever it takes to make sure you are 100% satisfied with your order. 
We are a proud member of 1% for the Planet. We donate 1% of our annual sales in the goal of saving wildlife. Thank you for supporting us and helping save our planet. Learn more about 
General
Where do we ship from?
All Shoesneat products are shipped from China with an average delivery time of 10-20 days. If you don't see our delivery time when you place your order and are not willing to wait 10-20 days for delivery, please contact us. We will be more than happy to send you a full refund.
(Only for orders with items not shipped)
Can my order be delivered within a week?
We stock our items in China to cut cost and we transfer the profit back to our valued customers. Therefore, the orders cannot be delivered in the US within a week. If you are willing to wait, you get a nice pair of shoes at a very competitive price
How can I cancel my order?
You can contact us by email in the following format: cancel order + your email + Order No. (Order screenshot)
Email address of the store: support@shoesneat.com
Our customer service team will get back to you within 12-24 hours. Please wait for our reply and do not open a PayPal case immediately after placing an order. We will FOR SURE refund you for unfilled orders.
Why did I order two pairs of shoes but only receive one pair?
Because Shoesneat offers a wide range of shoes, we have dedicated staff for certain styles. To ensure your shoes are shipped as quickly as possible, we sometimes send them in different packages. If you only receive one of these packages, don't worry, the rest will arrive one after another.
What happens if I forget my password?
If you forget your password you can request a new one to be emailed to you by clicking on the 'Forgotten Password' link on the sign in page. If this fails to resolve your problem, please contact our customer services department.
My shoes are out of stock, do I get a refund?
You will receive a full refund for any items that we are unable to fulfil.
How do I change my order?
To change orders please contact our customer service department as soon as possible. We will endeavour to change your order as requested, this may not always be possible as the item may have already been despatched – in which case you can just send the shoes back to us for an exchange.
Email address of the store: support@shoesneat.com
Can I check the order information if there is no registered member when placing an order?
Yes, You can sign up for a new membership using the same email address you used to purchase the order, and the order information will be synchronized.
Delivery
Do you charge for delivery?
Standard delivery to US mainland addresses is usually $5.99. If the order is over $50, we will deliver it for you free of charge.
How long does delivery take?
For US orders, our standard delivery time is 8–15 working days.
For other destinations please allow around 10 working days.
Can I nominate a date or time for delivery?
Unfortunately we cannot specify a delivery time for orders.
What happens if I don't receive my order on time?
If your order hasn't arrived, contact our customer services team who will investigate why your order has not been delivered and do their best to resolve any problems for you.
Email address of the store:support@shoesneat.com